Welcome to our Concepts & Product page
...and try out our viewing methods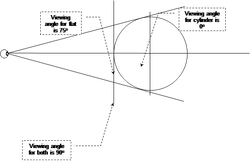 Our revolutionary new product has actually been years in the making. Long before widespread internet use and its research functionality, it was conceived from simple materials like paper with dots and squiggly lines manipulated to appear as floating above the paper. The dots and squiggly lines were then placed in order and repeated. After much fine-tuning the effects were now reproducible, though limited to flat and planar surfaces like wallpaper. Demand for additional effects and surfaces like cans, cups and other cylindrical objects soon came about. So we pressed on...
---
---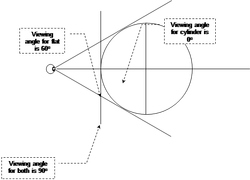 A search of many books, papers, and web-sites even to date has not produced a single reference to the application of stereograms on curved surfaces except for those who say not to. So we did the math and a few years ago developed a breakthrough method which allows stereograms to be applied to curved surfaces such as cans and drink cups. No more limited effects of viewing on a flat surface which is restricted to the edge of the paper. A can or cup may be continuously rotated to produce constant animated loops and viewing angles. Through our Exclusive Formula Technology (XFT), the viewer is now able to live the experience in a way that surpasses a flat surface. An infinite number of viewing angles and effects are now achievable simply by continuing to rotate the object. Elements now appear to rise over the horizon and float pass other objects. The gratifying and pleasing effects of 3D in motion is indeed breathtaking.
---
Viewing Methods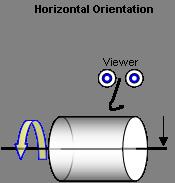 Horizontal Orientation
The object to be viewed must have its Axis of
Rotation parallel to the Viewer's Eyes. Hold the can horizontally about 12 to 18 inches from
your eyes. (Now proceed to cross your eyes as detailed below). Once you have the effect, start to rotate the can. The images seem to rise at the horizon and float past one another.

---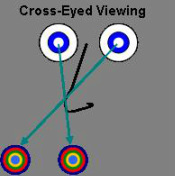 Cross-Eyed Viewing Method
When employing the cross-eyed viewing method or the Cross-Eyed Method, look at the can or circular container with the 3D application and cross your eyes slightly to merge the images (elements) or parts of the images (sub-elements). The elements or sub-elements which are horizontally farther apart will gradually appear to come closer to the viewer. Soon two adjacent images will merge and the effect will be seen. Once you have the effect, start to rotate the can. The images now appear to rise at the horizon and float past one another. So, go ahead a try this out on your own. It takes a little practice to get your eyes to cross consistently, but once you have it, its easier each time. Only about 5% of the population are unable to accomplish this and we hope you're not one.

---

Your company logo and promotional message can be seen from an infinite number of viewing angles on your cups or cans